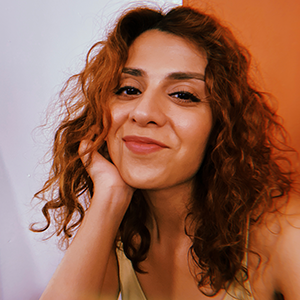 Yasmin Khaleghi is a Los Angeles based multi-disciplinary artist; singer, performer, songwriter, vocal coach, and abstract painter.
Her versatility and adaptability within all genres of contemporary music are anchored by the strong foundation of the higher education in music and performance that she attained at the Hamburg School of Music in Germany, ArtEZ University of the Arts in the Netherlands, as well as the jazz department of California State University Northridge in Los Angeles. In 2021, she furthered her education completing the Estill Voice Training Course Levels 1 & 2, and the 200 Hour Yoga Teacher Training at the Yoga & Ayurveda Center. Additionally, in pursuit to master breath-control, she is currently in the process of earning her 300 Hour training to become a 500 Hour Registered Yoga Teacher.
Yas has worked professionally for over a decade. Her experience spans various disciplines, from musical ensembles, theater, dance, and acting performances. She has
performed at acclaimed venues throughout Europe and the United States; including the Younes and Soraya Nazarian Center for the Performing Arts, Moroccan Lounge, Hotel Cafe, Birdland, Blue Whale, Valentine Recording Studio LA, Kampnagel, ErnstDeutsch Theater, Jazzpodium De Tor, St.Pauli Theater, Laeiszhalle, Knust, to name a few. In 2018, she composed and recorded vocals for a BMW commercial alongside advertising agency Jung von Matt. In 2019, German Dream-Pop Duo "AROMA" featured Yas Khaleghi on their hit-single "I don't wanna be with you". Other notable projects and collaborations include performances and recordings with the renowned NDR Bigband, neo-classical composer Ryan Whyman, singer/songwriter Stevie Redstone, jazz guitarist Hanno Busch, jazz pianist Mahesh Balasooriya, German theater director Franz Wittenbrink's productions "Damenklo" and "Café Amazonien", among many others.
As a vocal coach and music teacher, Yasmin has had the opportunity to work with with
singers from beginner to advanced level, at ages ranging from 4 to 56 years. She specializes in jazz, pop, and contemporary music, as well as science based anatomy principles inspired by Jo Estill and the Estill Vocal Technique, Complete Vocal Technique, and LaxVox. Yasmin teaches in various settings, including one-on-one lessons in-person and online, as well as group lessons and workshops.
The foundation of her teaching philosophy is to offer a safe and joyful learning environment. She believes that the key to successful learning is the combination of comprehensive technical and theoretical study and creative and explorative play. The ultimate goal is to develop the student's area of interest while simultaneously stimulating an ongoing appreciation for music. Every student is unique, bringing a different set of skills and prior experiences to the table, so it's essential to implement different teaching concepts to best suit the student's individual personality and needs.