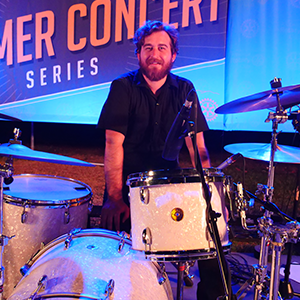 Robert is a Los Angeles based musician currently residing in Santa Clarita. His musical journey began at the age of 12 after being inspired by some of his friends who were on the drumline. In high school, Robert became heavily involved with the school's band program. He participated in the drumline for marching band, wind ensemble which gave him experience as a classical percussionist and as the drummer for the high school jazz band. It was his experience playing with the jazz band made him he realize that he wanted to become a professional musician and from that point on began taking his musical studies very seriously. Upon graduating from high school, Robert attended Florida State University on full scholarship earning a B.A. in Jazz Studies and later at the California Institute of the Arts where he earned a M.F.A. in Jazz Studies. While his time as a student was largely spent studying jazz drumming, he also studied piano, guitar and music composition to further his musical background.
Well versed in jazz, rock and country styles, Robert currently works as a freelance musician, recording artist and private instructor on a multitude of instruments. His performance experience since moving to Los Angeles in 2012 includes; playing countless club dates in Los Angeles, national tours, private events, musicals, recording sessions, festivals and high school clinics in Los Angeles. Some of his early career highlights have been performing with Charlie Haden's Liberation Music Orchestra for his last public performance, performing two showcases with The Cerny Brothers Band at South by Southwest in Austin, TX (2015, 2016) and having the opportunity to tour and perform all over the country. More recently, Robert has worked as a session and touring drummer for many Los Angeles artists including; Sie Sie Benhoff, Dylan Rodrigue, Jonny Fritz, Jason Hawk Harris, Izaak Opatz, Autumn Whitaker, Albert & His Dreamboats, The Cerny Brothers, Bones Muhroni, Ted Brown, Faultline and Cash Up Front.
As a private instructor, Robert has over fourteen years of experience teaching music lessons and group classes in a variety of settings. His goal as an instructor is to inspire and motivate students so that they gain a passion for music and learn to perform to the best of their abilities.